Sir Geoffrey Nice QC, a prominent British human rights lawyer who chaired the China Tribunal on forced organ harvesting, is convening another independent tribunal in London to investigate whether the Chinese regime's alleged human rights abuses against Uyghur Muslims constitute genocide or crimes against humanity.
Nice, who previously led the prosecution of former Yugoslavian President Slobodan Milosevic at the International Criminal Tribunal, was asked by the World Uyghur Congress, an international organization representing Uyghur exiles, to investigate allegations of Beijing's oppression of Uyghurs and ethnic Turkic minorities in China's northwestern region of Xinjiang.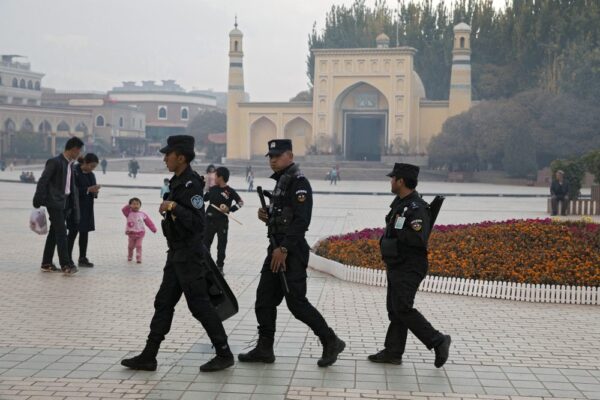 The tribunal organizers expect to hold two public hearings in London next year, each lasting several days. A verdict is expected by the end of 2021.
An earlier independent tribunal chaired by Nice, the Independent Tribunal Into Forced Organ Harvesting of Prisoners of Conscience in China, known as the China Tribunal, found last year that it was "beyond doubt" that state-sanctioned forced organ harvesting for profit has been taking place in China for years and "on a significant scale."
The China Tribunal found that these organs are principally sourced from imprisoned prisoners of conscience—the majority of whom are Falun Gong practitioners.
Torture and Enforced Sterilization
"At the moment, the strongest evidence would appear to be evidence of incarceration and possibly evidence of enforced sterilization," Nice told The Associated Press regarding the alleged treatment of Uyghurs by the Chinese regime.
According to figures cited by the U.S. Congressional-Executive Commission on China and the United Nations, as many as 1 million Uyghurs and other ethnic minorities are believed to be detained in Chinese reeducation facilities.
Former Uyghur detainees previously told The Epoch Times that they were subjected to torture, forced to denounce their faith, and forced to pledge loyalty to the Chinese Communist Party (CCP) while held for unknown reasons in often overcrowded facilities.
Uyghur women, meanwhile, have been subjected to forced sterilization, forced abortion, and coercive family planning, a recent report revealed.
Such enforced sterilization practices could be found to breach the Genocide Convention, Nice said.
The United States has already imposed sanctions on four Chinese officials involved in human rights abuses against Uyghurs, including the Xinjiang region's Party Secretary Chen Quanguo, who is a member of the CCP's powerful Politburo.
The China Tribunal
Sir Geoffrey Nice is an established authority on international human rights cases. The China Tribunal he chaired conducted the world's first independent legal analysis of evidence regarding forced organ harvesting in China.
Members of an international panel reviewed written and oral evidence, including testimony from over 50 witnesses given over two public hearings in December 2018 and April 2019.
Last June, the tribunal delivered its findings in London, concluding beyond a reasonable doubt that state-sanctioned forced organ harvesting from prisoners of conscience had taken place for years in China "on a significant scale," and is still taking place today.
The main organ supply came from imprisoned practitioners of the persecuted spiritual group Falun Gong, according to the tribunal. Uyghur Muslims were also at "risk" of being subjected to forced organ harvesting while detained.
The tribunal concluded that the Chinese regime's sustained campaign of forced organ harvesting constituted crimes against humanity.
"The conclusion shows that very many people have died indescribably hideous deaths for no reason, that more may suffer in similar ways, and that all of us live on a planet where extreme wickedness may be found," the tribunal stated in its final 160-page report (pdf), which included 300 pages of supplementary materials.
Falun Gong, also known as Falun Dafa, which consists of meditative exercises and moral teachings centered around the tenets of truthfulness, compassion, and tolerance, has been subject to a brutal persecution by the Chinese communist regime for more than two decades. Hundreds of thousands of adherents have been thrown into prisons, labor camps, and brainwashing centers, where many have been tortured in an effort to force them to renounce their faith, according to the Falun Dafa Information Center.
Cathy He, Frank Fang, Isabel van Brugen, and The Associated Press contributed to this report.
We are sorry that this post was not useful for you!
Let us improve this post!
Tell us how we can improve this post?